In this article we will focus on a feature MikroTik RouterOS calls IP Cloud to provide the router with a synchronised datetime and also allows it to set the timezone according to your local country / region without resorting to using the SNTP client or a NTP time server.
In our previous article on how to set the time on a MikroTik router we discussed the ability of the Router to obtain the correct and valid time by using an external third party NTP time server. Since RouterOS v6.14 however, a new function was added to update the Router's time automatically, namely Cloud Time Update. This function is found in the menu IP -> Cloud. Using this feature we can update the time by synchronising to MikroTik's cloud server at cloud.mikrotik.com automatically instead of manually setting the SNTP client to some third party NTP time server(s). Since RouterOS v6.43 this has now been changed to cloud2.mikrotik.com.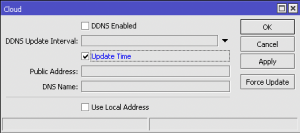 We still have to manually set the 'Time Zone' to match the real-time conditions in our country / region. Since RouterOS v6.27 we can enable 'Time Zone Autodetect' on the System -> Clock menu and MikroTik will automatically determine your country / region from your public IP address.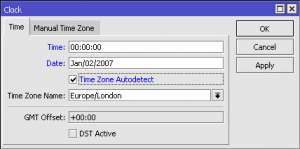 The default MikroTik factory configuration enables the 'Time Zone Autodetect' option. If you do not wish the router to communicate with MikroTik to obtain the time and to adjust the timezone automatically, ensure this setting is disabled and use the information contained in our earlier article on how to configure the SNTP Client manually to a different third party NTP time server.